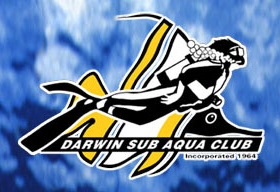 Dive Site SS Brisbane
MAX DEPTH 12 Metres SUNK 1881
LENGTH 281.5 FEET (85.3 M) TONNAGE 1503 TONS GROSS
GENERAL INFO
On the 10th of October 1881 the SS Brisbane having departed Hong Kong heading for port Darwin struck 2 reefs north of Bynoe harbour. The second of these reefs was fish reef where the vessel became firmly aground.
Attempts by her captain were made to refloat the vessel on the next high tide these attempts failed and she was finally abandoned on 27th October Some of the cargo was salvaged and forwarded to its intended destination a large part of the cargo was sold locally in Darwin.
As late as December there were still reports of goods being salvaged from the wreck.
The Brisbane is an easy dive items of interest include propeller rudder, steering gear ,boilers and hull plating
See brochure on the site printed by Northern Territory Government here
<![if !vml]>

<![endif]>